LETTING MY HAIR DOWN!!!!!!!!!!!
This was in response to a mail. I share it with you, for sheer joy.
Here we go... I toured recently about 40 cave temples in South India, scintillating with sculptures that surpassed every thing that he had seen anywhere, said John, who curates South Asian section in the Metropolitan Museum in NY. We were a bunch of 25 crazy Archaelogy & Bakthi scholars from all over the globe -Austria, Canada, USA, japan, UK, Germany, France, Italy, Australia and so on. and only two of us were Indians. Needless to add, I ranked lowest among scholars, being a student. About a thousand photographs taken by me are yet to be sorted out. I can send about 25,000 photographs of exquisite and embellished statues of yore. Leonarda da Vinci will swoon over them.
1 12 2015
Sri Rama Pattibishekam ( coronation)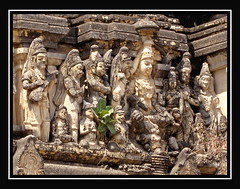 https://harikrishnamurthy.files.wordpress.com/2014/12/image0161611.jpg?w=660